Coyotes Announce Partnership with Noble Ground Coffee
Posted: March 29, 2023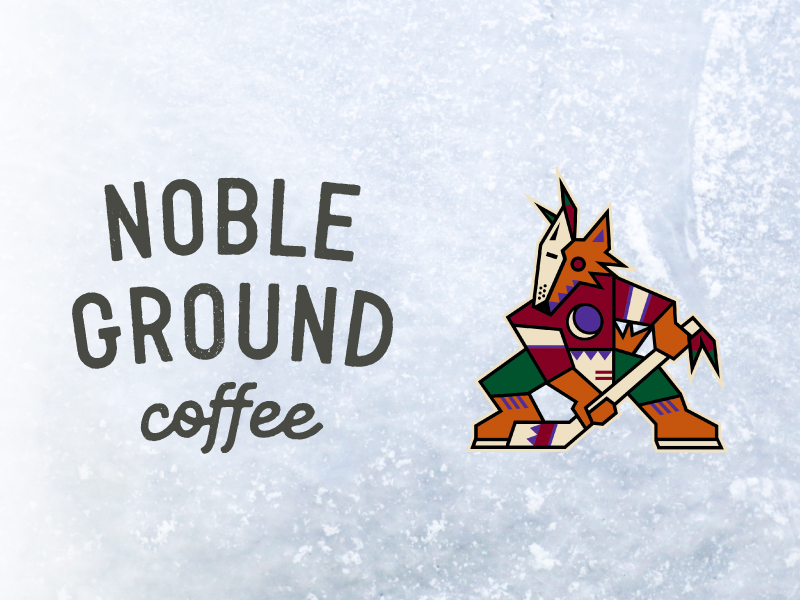 Noble Ground Coffee to Serve as The Official Coffee of The Arizona Coyotes & Tucson Roadrunners
SCOTTSDALE, ARIZONA –The Arizona Coyotes announced today a three-year partnership with Noble Ground Coffee, LLC. As part of the deal, Noble Ground Coffee will serve as the official coffee of the Arizona Coyotes and the Tucson Roadrunners.
"We are very pleased to name Noble Ground Coffee as the official coffee of the Arizona Coyotes and Tucson Roadrunners," said Coyotes President & CEO Xavier A. Gutierrez. "Noble Ground Coffee shares our vison and commitment to helping those in need in our community. We hope our fans enjoy their delicious coffee at Mullett Arena and at Noble Ground Coffee's soon-to-open cafes throughout the Valley and support their efforts to create and fund impactful programs."
"It is an honor to be named the official coffee of the Arizona Coyotes and Tucson Roadrunners, and to partner with a franchise that shares our commitment to making a positive and lasting impact on the community," said Tim O'Neal, President, and CEO of Thrive Services Group, which owns Noble Ground Coffee. "At Noble Ground Coffee, we are passionate about serving high-quality beverages to our guests, who also can feel good knowing their purchases go directly toward creating and funding education and housing programs for the underserved. Together, we can build stronger communities where all people can thrive."
Noble Ground Coffee is a new business concept where 100% of net proceeds go toward supporting charitable causes identified by its parent company, Thrive Services Group Inc. Noble Ground Coffee, like Thrive's other business entities, was intentionally launched to fuel social change and help those who need it most. Noble Ground Coffee's profits will be directed toward funding impactful programs for underserved communities and will be invested in developing K-8 schools and housing.
Fans can purchase coffee and merchandise online at noblegroundcoffee.com and can follow the business on Instagram and LinkedIn. Later this year, Noble Ground Coffee is set to open multiple coffee shops throughout Arizona. The Coyotes also will integrate Noble Ground Coffee inside Mullett Arena for fans to enjoy during games.
Contact:
Danielle Sittu
VP Marketing & Public Relations
[email protected]
602-826-6939