Noble Ground Coffee Named Official Coffee of the Phoenix Suns and Mercury
Posted: March 29, 2023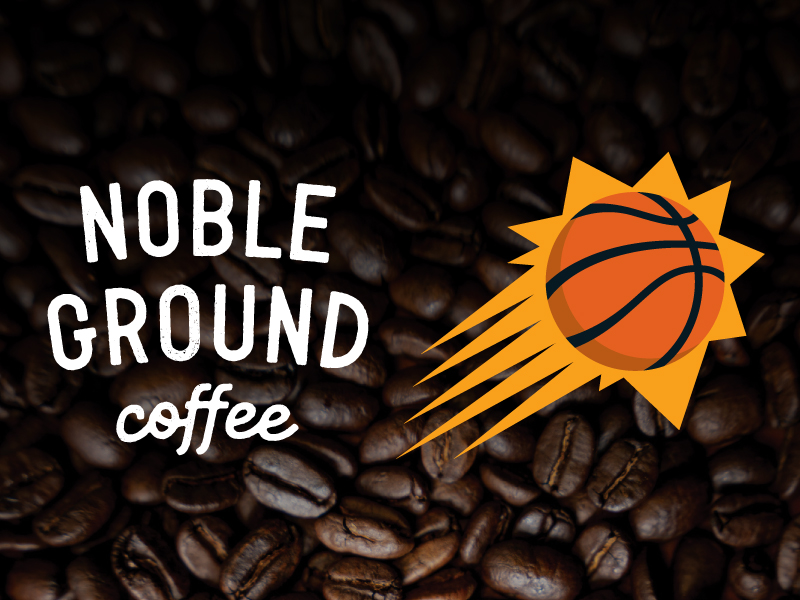 New Coffee Shops' Proceeds to Fund Education and Housing Programs for Underserved People
PHOENIX – Noble Ground Coffee, LLC and the Phoenix Suns and Phoenix Mercury today announced a three-year partnership where Noble Ground Coffee will serve as the official coffee of the Phoenix Suns and the Phoenix Mercury and will be served in the Footprint Center year-round at all public events.
"We are thrilled Noble Ground Coffee made its debut in the Footprint Center, home to the Phoenix Suns and Mercury," said Tim O'Neal, President and CEO of Thrive Services Group, the parent company of Noble Ground Coffee. "In partnering with the Suns and Mercury, we have found like-minded partners who care deeply about making a positive impact on the community and providing fans with an exceptional experience. At Noble Ground Coffee, we are passionate about serving high-quality beverages to our guests, who also can feel good knowing their purchases go directly toward creating and funding education and housing programs for the underserved. Working together with business partners and patrons, we can and will build stronger communities where all people can thrive."
"The Phoenix Suns and Mercury are proud to welcome Noble Ground Coffee to Footprint Center. Our partnership is rooted in a shared mission to create meaningful and lasting change within our communities," said Suns and Mercury Executive Vice President and Chief Revenue Officer Dan Costello. "Noble Ground Coffee dedicates 100% of its profits to funding programs for underserved communities so our fans will appreciate knowing that when they fuel up with a great cup of coffee, they're joining this mission and helping to fuel social change."
In addition to enjoying Noble Ground Coffee during Suns and Mercury games, Footprint Center guests can purchase their favorite hot and cold brews during concerts and other events. The Noble Ground Coffee kiosk is located on the main concourse near section 114. Noble Ground Coffee also is opening cafes throughout Arizona, with five set to open by year-end, and more than a dozen to open in 2024.
Noble Ground Coffee is a new business concept where 100% of net proceeds go toward supporting charitable causes identified by its parent company, Thrive Services Group Inc. Noble Ground Coffee, like Thrive's other business entities, was intentionally launched to fuel social change and help those who need it most. Noble Ground Coffee's profits will be directed toward funding impactful programs for underserved communities and will be invested in developing K-8 schools and housing.
Fans can purchase coffee and merchandise online at noblegroundcoffee.com, and can follow us on Instagram and LinkedIn.
Contact:
Danielle Sittu
VP Marketing & Public Relations
[email protected]
602-826-6939